Sunbury Lions Club Teddy Bear Program
Article from the Star Weekly by Serena Seyfort Jan 9th 2018
Sunbury paramedics Lucy and Emily are excited about handing out Lions Trauma Bears to kids. The teddy bears, donated to Ambulance Victoria's Sunbury depot by the Lions Club of Sunbury, will be carried by local paramedics and given to children facing stressful situations.
Sunbury Lions president Helena Thompson said being able to cuddle one of the bears could often make all the difference to youngsters in need of comfort.
The local club runs numerous ongoing projects and fundraising activities. Sunbury Lions are always on the lookout for new members. For details about joining, contact Helena Thompson on 9746 3428 or secretary Jim Harvey on 9744 4772.
Sunbury Police and Lions club join forces to spread teddy bear joy among needy children. Story from Damien Ractcliffe, Sunbury Leader, May 30, 2014
A GANG of teddy bears have been locked up by Sunbury police.
Leading Senior Constables Gary Pemberton and Ash Watson made the furry arrests as part of Operation Teddy Bear.
Ten teddies were donated to Sunbury police by Sunbury Hume Lions Club to be handed out to young needy recipients as the officers see fit.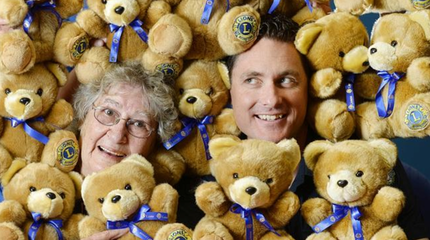 In the past, teddies, provided by the Lions Crimewatch Speak Up Committee, have been given to young people affected by bushfires and floods, or suffering from family or financial difficulties.
Sunbury Hume Lions president Tony Fawcett said the project was part of a push by the club to get more involved in youth affairs in the area.
"It's only a little thing but we know police are human and see a lot of these unhappy situations involving young children, very often there is not a lot they can do," Mr Fawcett said.
"Hopefully with these bears they will be able to provide just a little happiness to youngsters at not so happy times of their lives.
"If this initial program proves a success then Sunbury Hume Lions will look at continuing it."
As part of the push, the Sunbury club invites young people who would like to know more about the community work of Lions to get in touch and join members on a project.
| Atherton | Ballarat | Barrier Reef | Boroondara Central | Brown Hill | Brown Hill Lioness |
| Caroline Springs | Chelsea | City of Horsham | Coburg | Cranbourne |
| Deniliquin | Doutta Galla | Endeavour Hills Lions | Essendon |
| Golden City Bendigo | Glenorchy | Glenroy | Geelong South Barwon |
| Hopetoun Lioness | Kalgoorlie | Kyneton | Maryborough | Maiden Gully Marong |
| Melbourne City Southbank | Melton | Merrigum | Miners Rest | Moorabbin |
| Mooroolbark | Moyhu | Mt Bolton and District | Nagambie | Raymond Terrace |
| Rochester LEOs | Rowville | Scone | Sebastopol | Stanhope | Stansbury Dalrymple |
| Strathfieldsaye | Sunbury | Tewantin Noosa | Tilligerry Peninsula | Wantirna |
| Wodonga | Woodend | Wyong | Yarrawonga | Young |